'Fast Track' Seamless Resin Flooring
Cool, calm and collected. 'Fast Track' seamless resin flooring offers the style and looks of


more...


3D Biodegradable Textile
TERRAMAC® material is a man made fiber that originates in plants. Made from polyactic acid


more...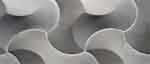 3D Concrete tiles
The decorative 3 dimensional concrete tiles are the latest Metrofarm product. The two different designs


more...


3D Textile
Three-dimensional fabric mixed with resins and a polymeric blend of plastics. ...


more...

3D Waste
When is a negative a positive? Easy, when you shift a trajectory until a


more...


Acoustic Cloak
Welcome a new breed of materials called metamaterials; artificially structured composites designed to have properties


more...